As the owner of a Rolls Royce, you understand the importance of regular care of your vehicle: Your car was an extremely significant investment, and you must treat it as such. Rolls Royce has done its part in ensuring your safety during your driving experience in the process of manufacturing. Once the vehicle is in your possession, the responsibility shifts to you to ensure that your Rolls Royce remains in top shape for your safety and enjoyment while driving. Below, you will find tips on where to go for factory-scheduled service of your Rolls Royce.
The Importance of Routine Maintenance for Your Rolls Royce
Routine maintenance can prevent significant vehicle malfunctions and component failures, such as engine and transmission problems. A regular maintenance schedule is vital for any vehicle, sporty or luxury.
Common problems that may arise in Rolls Royce vehicles, especially in older models, are leaks and problems with the high-pressure fuel pump. Because of this, it's important that routine maintenance consists of checking the car's engine along with ensuring that the valves are sealed. Clogged gaskets are another common issue that comes up with Rolls Royce vehicles, so it is vital that you have your entire engine and its components are thoroughly checked during scheduled maintenance.
System Checks
Modern Rolls Royce vehicles incorporate information from the BMW (the parent company) Condition Based Servicing System. This system uses sensors and algorithms to determine when the oil lifespan of the car has been maxed out. Other parameters such as the brake pads, engine fluids, and many more vehicle aspects are tracked by the Condition Based Servicing System to alert you of the status of these various parameters so that you are aware of when it is appropriate to have your Rolls Royce serviced.
Oil Levels and Other Important Fluids
One of the most important aspects to have checked during routine maintenance is the oil levels. This is because neglect of checking and changing the oil can lead to a plethora of issues with your vehicle, some of which can lead to significant damage if left untreated. Without the changing of oil, your vehicle can begin to suffer from internal engine friction and excessively high temperatures of engine components. These effects can ultimately render your vehicle unable to function properly.
Your mechanic will know that they also need to top off other fluids including the transmission, rear axle, power steering, and hydraulic fluids. If necessary, they will lubricate vehicle components such as the chassis and body fittings.
Tire Pressure and Alignment
Having the pressure and alignment of your tires regularly inspected is vital. Neglecting to keep tabs on these aspects of your vehicle may allow for the health of your vehicle to slowly degrade without your knowledge, leading to potentially dangerous problems with your vehicle.
Misalignment of your wheels can put excess stress on the frame of your vehicle. This plays into uneven wear of the tires, meaning that tire pressure and alignment both affect one another. These issues can result in your car drifting to one side when driving, problems steering, and excessive wear on your tires. This increases the chances of your tire blowing out. It also decreases your fuel economy. Having your tire pressure and alignment checked during routine maintenance will directly affect your safety and positively influence the longevity of your Rolls Royce.
Brakes
It's important to have your brakes checked, especially when your vehicle is starting to get on in age. Braking systems deteriorate over time, and this degradation can be sped up with exposure to environmental elements such as rain and snow as well as chemicals leached from the road.
Brakes that are in bad condition pose a significant hindrance to the functionality of your vehicle and can put you in danger when driving. If the brake pads get too thin, the metal will begin to rub against the brake disc, leading to warping of the rotors and more.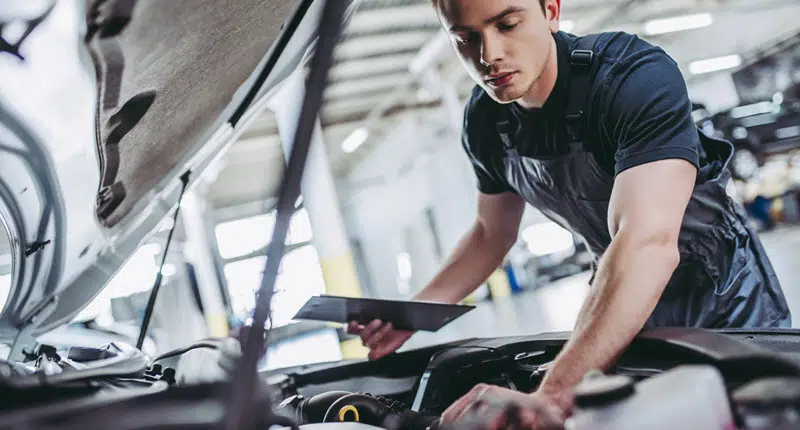 Schedule Routine Maintenance for Your Rolls Royce with the Experts
At Bavarian Motor Repairs, we pride ourselves on excellent quality work and customer service. Our expert mechanics use the latest factory-grade tools and equipment to provide the highest quality service. Our ASE certified mechanics have undergone at least 120 hours of training each and our services are offered along with a 36-month and 36,000-mile warranty. With these assurances, you can be sure that your Rolls Royce will be in top shape for years to come.  We work on BMW, MINI, and Rolls Royce vehicles and serve Washington D.C., Largo, North East, Upper Marlboro, College Park, and Capitol Heights, MD. Schedule an appointment with us today.
* Rolls-Royce Ghost image credit goes to: josefkubes.